Are you getting confused between Stonescapes Aqua Blue and Aqua White Mini Pebble because both almost give similar appearance in the pool.
According to me, selecting a pool finish is one of the difficult task for the owner of a pool but don't worry I am here to help you.
In this article we are going to dive into the depth of these two pool finishes in terms of details, providing images and comparing aqua blue vs aqua white mini pebbles.
My name is Alex. I have been working in the pool industry for the last 26 years. Here I am gonna share my experience that helps you to choose the right between stonescapes aqua blue vs aqua white mini pebble. but remember that you must consult your pool builder first.
We should always choose such pool finishes which not only look good but also good in terms of durability, Great on Chemicals and Pocket Friendly.
so sit back, have a cup of coffee and let's get started.
What makes Aqua blue vs aqua white mini pebble different?
These Two pool finishes are very popular and both create a medium blue color effect in your pool. that makes someone confused to identify the difference. However aqua blue appears slightly darker because of white portland cement colored with aqua blue pigments and adding natural black, gold and white quartz pebble aggregates.
On the other hand Aqua white is made up of aqua blue pigmented white portland cement and added some natural white quartz pebble aggregates.
Looks comparison of Aqua Blue Vs Aqua White
| | | |
| --- | --- | --- |
| S No. | Aqua Blue | Aqua White |
| 1 | Aqua Blue is slightly darker and produces a less neutral tone. | Aqua white gives a more neutral tone compared to aqua blue. |
| 2. | The dark blue color of Aqua Blue pebble appears striking and vivid in the presence of sunlight. | Aqua white pebbles are less dark compared to aqua blue and look like ocean water. |
| 3 | Due to Dark blue color, Aqua blue appears much darker at night. | Less Dark color helps aqua white pebbles to appear bright at night. |
Looks in the presence of sunlight
Video of Aqua Blue Pebble Finish
Video of Aqua White Pebble Finish
Appearance with the depth of water
Aqua blue or Aqua White can appear different with depth of the water so I am sharing some images that help you to decide.
How Do Different Blends Change Appearance?
You get get various blend option with Aqua blue and Aqua white pebble like:
Abalone shells
Puerto Rico blends
Touch of Glass
With the help of these blends you can enhance the appearance of the pool but it also pumps up your budget so you must consult with a contractor before mixing any complex material.
So I'm gonna share some details with pictures one by one that help you to decide.
Abalone Shells
Abalone blend made up of abalone shells . These shells come from tropical regions and with the help of crushers are crushed into tiny particles and polished to a high standard so that sharp edges become smooth. After polished it's ready to add in your pool finish.
It gives your pool a unique sparkle effect on sunny days which look great and gives a feel of tropical regions. but after a few weeks shells start to decay and give a brown appearance so remember that before applying this blend.
Puerto Rico blends
Puerto Rico blends come with three types of size: micro,small and large. These sizes can change the appearance of your pool.
Puerto rico blend is a mixture of glass beads and it gives you a similar appearance like glass touch. The only difference in Puerto rico blend is beads can change their color depending on how the sun reflects to them.
If your pool is in such a place where the sun rays fall directly, then you will love this blend very much.
Touch of Glass
If you are looking for a shine when the sunlight hits the pool then you must go with a touch of glass blends. It is a mixture of small glass beads.
Just remember that a high amount of glass bread can increase the roughness of the pool surface.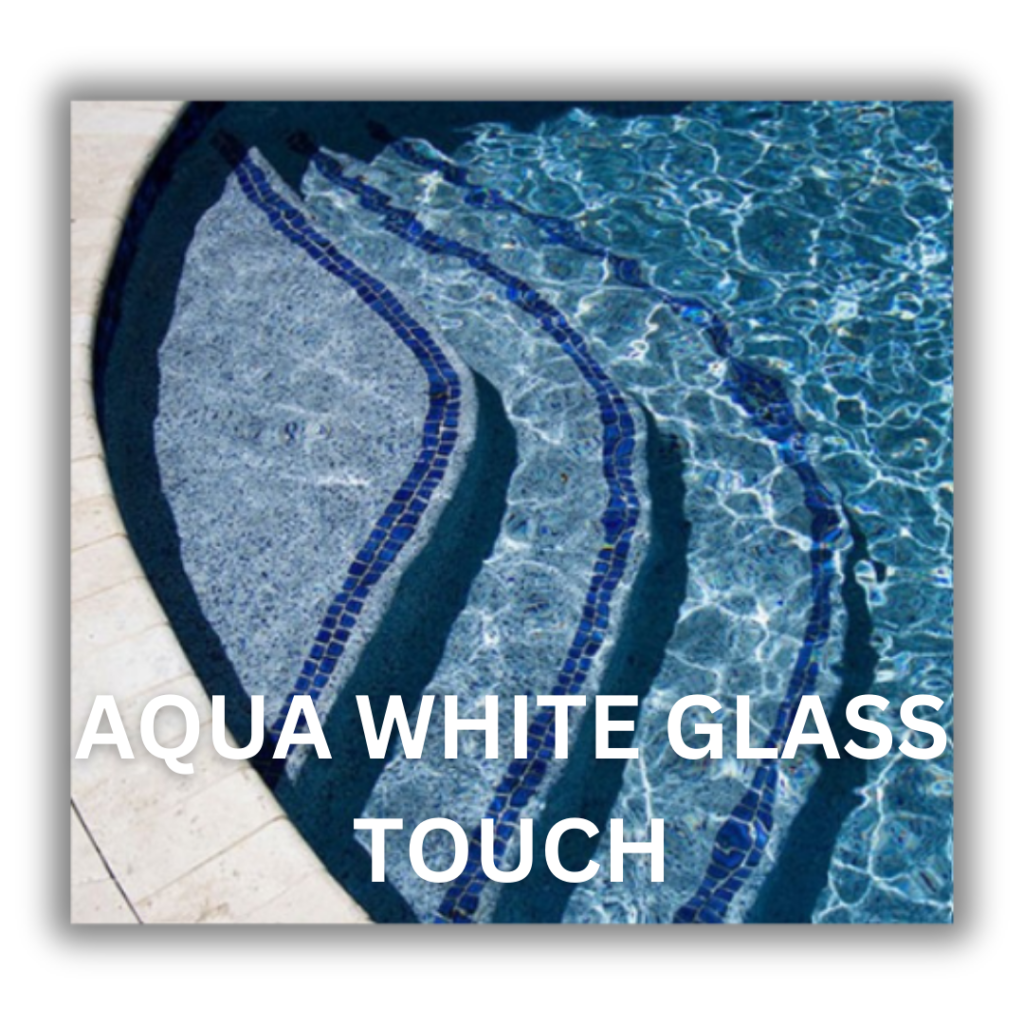 Durability
Both Pebble Finish are durable with low maintenance. Both finishes are more resistant to chemical, staining and mustard algae growth compared to plaster finish.
But if you are looking for adding any extra material to enhance the look, like an abalone shell might be a bad decision for you because after some time the abalone shell starts to degrade and turn brown and leave stains in your pool.
Abalone shells not just spoil the appearance of the pool but also affect the durability of pebble finish.
Reliability
Aqua blue or Aqua white both pebble finishes are more reliable compared to plaster. With proper maintenance the company claims this finish can last between 15 to 20 years.
In terms of maintenance you just make sure to brush the pool once a week and make proper circulation of water. I don't think it is a heavy task for you.
Great on chemicals
Both are Great on Chemicals but Aqua blue finish has slightly more advantage because Aqua blue is made up of two types of natural pebble aggregates black and gold .These aggregates are highly chemical resistant and can easily handle harsh chemical effects.
On the other hand Aqua white made up of only natural white pebble aggregates that make low quantities of aggregates leads to damage to the pool finish. But always contact a professional pool builder because it can fix via increasing the quantity on white pebble aggregates.
Slip resistant texture
In terms of texture and slip resistance both finishes are the best. Both are made up Stone gives similar texture. However, Aqua white pebbles are slightly smooth compared to Aqua blue but both do not harm your feet if you stand for a long time in the pool.
You feel a more rough surface if you add different blends and other things like abalone shells. They can change the roughness of the surface.
Choice of colors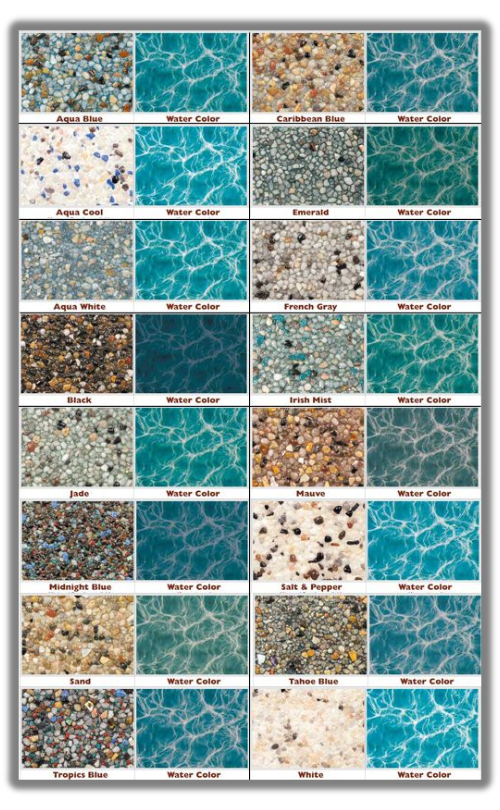 Pricing
Stonescapes and pebble tec are the leading brands for the aqua blue and aqua white pebble finishes. However, the price depends on brand to brand but generally 4$ to 5$ for 1 foot . The main point is it depends on your pool size, your location and your contractor.
Just know that you are paying for the best Quality. I also compared Stonescapes tropics blue vs Midnight blue finishes you must check it out.
Installation Video of Mini Pebble
FAQs
What is the difference between quartz and mini pebble pool finish?
Mini pebbles are more durable and reliable than Quartz. On the other hand, quartz base products are expensive compared to mini pebbles.
How long does StoneScapes mini pebble last?
It can last 15 to 20 years if you are doing proper maintenance.
Is Mini Pebble rough on feet?
It feels a little bit rough because of the small size of pebbles but it does not harm your feet.